Woodchuck Flooring Inc., established in 1970 by its founder George Nassis, has become one of Ontario's oldest and largest retailers and wholesalers of hardwood flooring.
We offer our clients over 50 years of expertise in the wood flooring industry. Exceptional quality and service in the commercial, residential and institutional sectors is what our company's success has been built on.
Don't believe us? View our flooring reviews on homestars or stop by our showroom in Scarborough to see for yourself.
TRUST
All of us at Woodchuck value Trust. With over 50 years in business in the Toronto area our team has over a hundred years of combined expertise. We never push a purchase on our customers, we offer honest practical advice and endeavour to find the right products for you. You can trust us to provide the right recommendation for your flooring project.
EXPERIENCE
Buying a floor for your home shouldn't be overly stressful; however, it is a big decision. At Woodchuck we try to make that experience as smooth and comfortable as possible. Our decades of experience mean we've seen a lot of flooring projects go right, and some go wrong. We'll be able to steer you in the right direction to make sure the floor you get is the floor you want.
SELECTION
Woodchuck Flooring carries more major flooring brands than any other retailer in the GTA. Stop by our showroom to browse hundreds of samples. Our team will find the floor you are looking for. Our loyalties lie primarily with you; our customer. We don't push one manufacturer over another. We carry them all, and help you choose the floor that's best for you.
TRANSPARENCY
Being in business for over 50 years says something about our values. We are a family business built on honesty and integrity. We don't sell you one thing and ship another. If we say it's made in Canada – it is. We offer fair pricing and offer tremendous customer service.
Test out Woodchuck today and experience what countless customers have being saying for years.
We want you to love your new or refinished floor. We promise if we wouldn't use it in our home or business, we won't sell it to you.
We've completed many hardwood flooring projects in the GTA over the last 50 years, from castles (Casa Loma) to Colleges (Glendon) to local businesses (Anthropology @ Yorkdale) and many, many family homes and condos.
Whether it's a new build, a renovation or refinishing a floor, our goal is to provide you with the industry expertise needed to complete your new flooring or flooring upgrade on time and on budget.
We offer quality Canadian made flooring in many sizes, stains, and brands. Visit our showroom and see why so many of our clients call on us to help them with their flooring project…and the next one too. As your family grows and changes, we want to keep working with you to keep your floors beautiful, functional and on trend.
We are committed to providing hardwood flooring at the best value for your money. We carry only reputable manufacturers who adhere to environmentally appropriate forestry practices. Many of our products are FSC and LEEDS certified.
We have established committed relationships with some of the world's top manufacturers and distributors during our 48 years of operation.
We offer a large showroom for you to consider your options in comfort, with expert staff ready to assist. We have samples of most flooring products available that you can take to view in your own home or business.
We are committed to complete customer satisfaction for all of our clients at all levels of our business.
Growth is what the future holds and it will be built on our strong reputation and large hardwood flooring purchasing power to ensure you get the best value for your dollar.
We continuously add new services, quality flooring products and expertise to our Canadian business to help serve you better. Woodchuck Flooring is working on expanding these every day.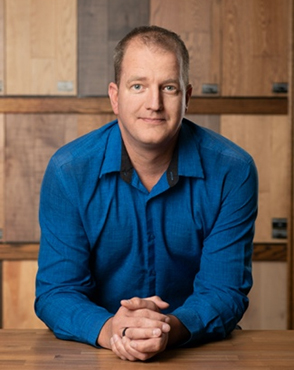 Jamie
Working as a Sales Associate at Woodchuck Flooring for seven years and counting, Jamie dabbles in everything. When you walk into our showroom, you can feel Jamie's energy immediately. Always on the go Jamie knows his stuff. He will provide you the expertise and advice you need to select the right hardwood flooring for your project.
When outside of the job, Jamie spends his time kicking back at the pool, spending time with his kids, and enjoying a nice cold beer.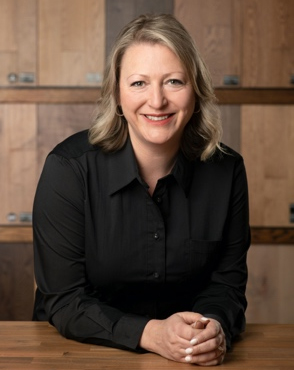 Holli
Working with our Estimator and Foreman Holli is a natural organizer who has worked in our service department for over 8 years. Holli ensures that all the 'i's' are dotted and the 't's' crossed. She is a great communicator making sure all the details are looked after for you and your project.
When not at work Holli is known as a loving Auntie and willing volunteer.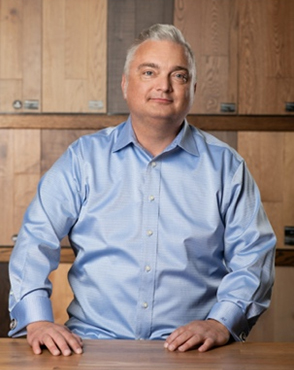 Mark
Working at Woodchuck Flooring for over twenty years Mark is the Co-Owner and Vice President. Mark knows the industry inside and out. If nobody knows what it is, or where to find it, Mark is your guy. If he can't find what you need, nobody can. When you walk into our showroom, Mark's door will always be open. Our Woodchuck family is here for yours.
When he's not on the job, he spends his time indulging in all things culinary. From judging at butter tart competitions to playing top chef in his own kitchen Mark enjoys local artisan flavours.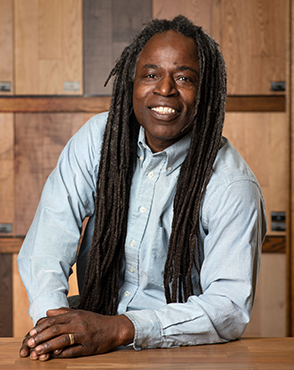 Clinton
Working in the Service Department for eleven years and counting and previous to that as one of our top tradesmen on projects from Casa Loma to Glendon Hall at Glendon College. Clinton is the master of the service department. Clinton will ensure that all your needs are met and that outside of the showroom, your floors are installed to perfection. Honestly, if you don't like Clinton it's you, not him! This guy is the coolest cat in the crib with enough skill to back it up.
After hours, you can catch Clinton on the soccer field or mentoring the next generation.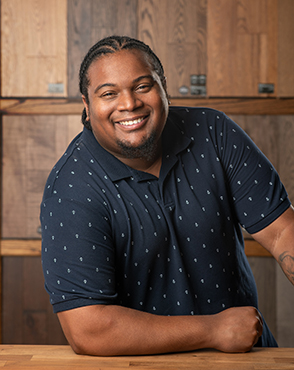 Malik
Working in Sales at Woodchuck Flooring for 6 months and counting, Malik is our newest addition to our Woodchuck team. What a smile! Malik is always happy and willing to help. Malik will provide you with the advice and insight you need to select the right hardwood flooring for your project.
Outside of work, Malik likes to spend his time chilling out with friends and family.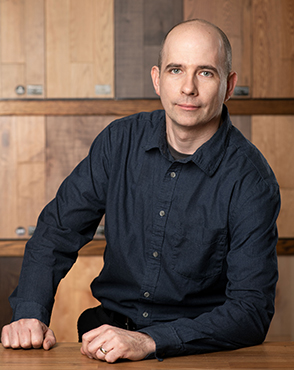 Chris
Working as a Sales Associate and Estimator at Woodchuck Flooring for six years and counting, Chris is a vital member of our team. Don't let his quiet demeanour fool you; this guy is a virtual encyclopedia of flooring knowledge. Chris provides all of our clients with sound advice and expertise, while providing our clients with realistic expectations and accurate estimates for their projects.
When off the job, Chris enjoys spending time with his kids and coaching rec sports for little ones.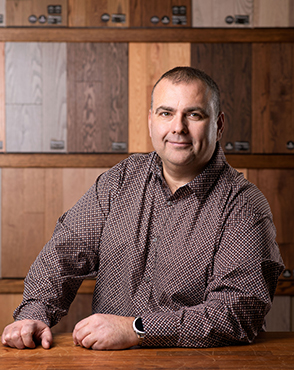 Tim
As the Owner of Woodchuck Flooring, Tim is our commander and chief. He got his start by learning to walk, very closely followed by tagging along with his father George on job sites. Tim has stories to tell… His flooring education has taken him from Canada to China, the US and Europe. Now focused on making sure the Woodchuck vision is clear and that everyone is on track he feels his greatest achievement is in the team he has built at Woodchuck.
When not Woodchucking Tim is usually brandishing a chef knife in one hand and a cork screw in the other; if he had more hands he would use them to hold a bottle of wine and a sauté pan.